By integrating various functions in one building, the building offers an inspiring working environment in which the exchange of knowledge between Unilever, the WUR, knowledge centres, start-ups and other companies is central. Thanks to various innovative techniques and an efficient layout that encourages movement and meeting, the Unilever also contributes to the health and wellbeing of the environment and the employees and users of the building.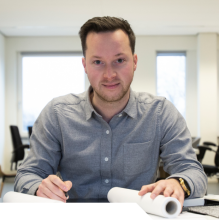 Patrick Levie
Fokkema & Partners Architects
The double-height walls, special colours and special wall finishes contribute to the integral experience of the Unilever Foods Innovation.
Address
Bronland 14
6708 WH Wageningen
Netherlands